The conference of the Swedish Physical Society, Fysikdagarna, will be held in Stockholm 14–16 June 2023 with lectures, poster session and lab tours taking place in the main building in AlbaNova University center.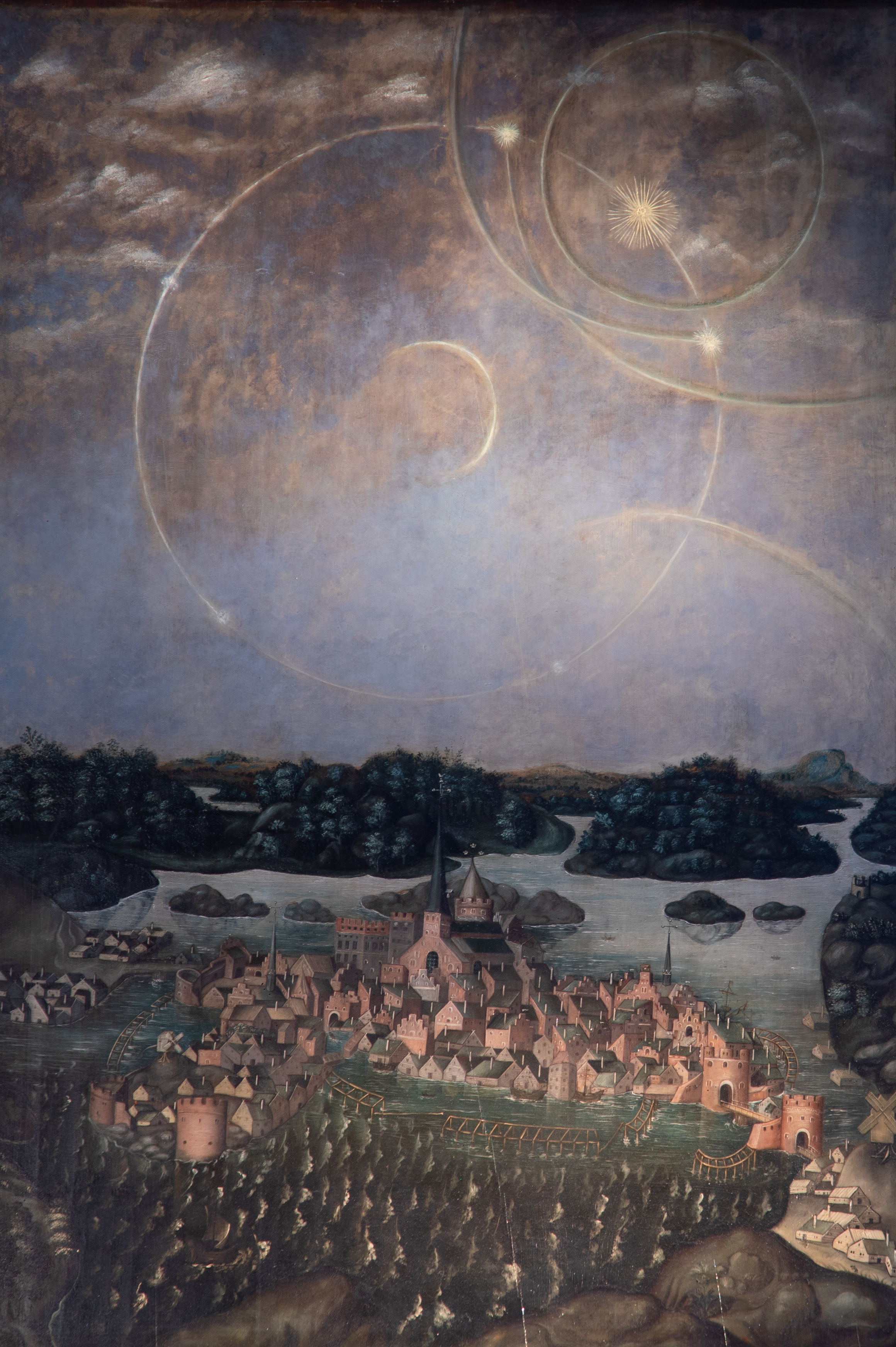 The conference consists of plenary lectures (Wednesday afternoon and Thursday morning) and parallel sessions organized by the individual sections. On Wednesday, there will be a poster session, lab tours and a conference dinner. The open annual meeting of the Swedish Physical Society and announcement of the Oseen medal will be in Thursday afternoon. The exhibition and poster session will be open Wednesday and Thursday. There are excursions planned for Nobelmuseum and "Ytterby gruva", primarily but not solely for high school teachers, on Friday, where as other sections continue with activities in AlbaNova. Check the timetable for an easy overview.
Key dates:
Vädersolstavlan, one of the first displays of the capital, depicts a "Sun Dog" phenomenon over medieval Stockholm on April 20, 1535. Photo: Nora Odelius (CC-BY)
Plenary speakers:
Macarena Garcia Marin (European Space Agency) - Exploring the Universe with the James Webb Space Telescope
Raymond Pierrehumbert (University of Oxford) - Universal climate physics - from exoplanets to Earth's fate
Anna Danielsson (Stockholms universitet) - Gender and physics: Perspectives on culture and identity in physics education
Olga Botner (Uppsala universitet) - IceCube - the frozen telescope
Karl Grandin (Kungl. Vetenskapsakademien) - A Glimpse inside the Nobel archives
Armin Tavakoli (Lunds universitet) - Entanglement and the 2022 Nobel prize in physics
Sofia Qvarfort (Nordita) - Nordita: A smörgåsbord of theoretical physics research
Joachim Nilsson (Karolinska Universitetssjukhuset Solna) - Why more patients should choose the nuclear option
Please spread information about the conference among colleagues and students by posting the
Swedish version
or the
English version
of the conference poster.
Organisation: Chad Finley, Kerstin Jon-And, Emely Kjellsson Lindblom, Josefin Larsson, Linda Megner, Michael Odelius (Chair), Henning Zettergren, Barbro Åsman
The call for abstracts is open
You can submit an abstract for reviewing.
Application
Application for this event is currently open.